Welcome to the East Trent Genealogy
web site.
See the latest data added on our What's New page, or have a look at our Blog!
Helping you with your family history research...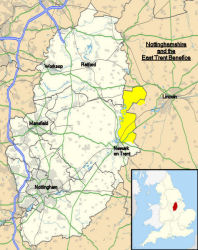 The aim of East Trent Genealogy is to transcribe and publish on our website all the available historical data that can be found for the parishes roughly within the area of east Nottinghamshire known to the Church of England as the East Trent Benefice. The area is fairly long but relatively narrow, bounded by the River Trent to the west, the Lincolnshire border to the north & east, and the A17 road from Newark to Sleaford on the south. The map to the right shows the area (in yellow) in relation to the rest of Nottinghamshire and the UK - please click on it for a closer look.
The East Trent Benefice comprises 11 historical ecclesiastical parishes - Besthorpe, Girton, Harby, Holme, Langford, North Clifton, North Collingham, South Collingham, South Scarle, Thorney & Winthorpe - and several communities besides, including Brough, South Clifton, Spalford, Swinethorpe (in Lincolnshire, but part of the parish of Harby) & Wigsley.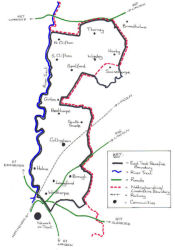 A slight departure from the area described, but still included, is the community of Broadholme, once in the parish of Thorney and the county of Nottinghamshire, but now in the county of Lincolnshire and the diocese of Lincoln. Please click on the map to the left to see the locations of each of these villages. Hopefully if you are researching your ancestral connections within this area of Nottinghamshire you will find something of interest!
What historical data has been transcribed so far?
There is a huge amount of data available in local libraries and archives, much of which is not indexed and is not available online; it is the aim of East Trent Genealogy to transcribe as much of this as possible. We make all transcriptions available free of charge, but will always be very grateful to receive donations to help fund further additions of historical data to this website.
Although about 9% of the transcriptions are subject to our Privacy Policy and therefore will not be published on the website, the summary of transcriptions made so far by East Trent Genealogy is:
Finding your ancestors on the East Trent Genealogy website...
A fully searchable database is now available for all the data collections on the website, and currently includes Baptisms, Burials and Marriages. Try using our quick Last Name Search box at the top of each web page. Alternatively, try the Search All Collections page if you want to carry out a more complex search.
In addition if you're interested in learning about the places where your ancestors worshipped, or you're planning a visit, try the Places of Worship section. This can also be used as a shortcut to access all the transcribed parish register entries for a particular church.