Winthorpe (All Saints)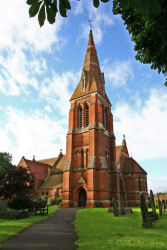 Denomination:
Current Use:
Websites:
Location:
Address
Gainsborough Road, Winthorpe, Newark, NG24 2NR
Maps
OS Map Grid Reference: SK811564
OS Landranger (1:50,000): 121 Lincoln & Newark-on-Trent
OS Explorer (1:25,000): 271 Newark-on-Trent
View the church on Google Maps, Bing Maps, Streetmap or Old-Maps
Sat Nav Coordinates
Latitude: N53°05'55" or N53.098719 or 53.098719
Longitude: W0°47'20" or W0.788991 or -0.788991
We recommend the above if you are visiting the church using a Sat Nav as the postcode is not sufficiently accurate.
Registers:
There are 1,357 Baptisms, 1,088 Burials and 435 Marriages in the ETG database.
General
Baptisms: 1687 ~ 1808; Burials: 1697 ~ 1808; Marriages: 1695 ~ 1754
Baptisms: 1808 ~ 1812; Burials: 1808 ~ 1812; Marriages: 1809 ~ 1823
Baptisms
Burials
Marriages
1754 ~ 1821
1813 ~ 1835
1838 ~ 1984*
1986 ~ 1991*
1991 ~ 1997*
1997 ~ 2004*
2004 ~ 2013*
Please Note:
Our Privacy Policy applies to some or all entries in the registers marked * above.
Registers after the latest dates listed are still in use and kept by the church. If you would like advice on how to obtain entries from them, please contact us.
About this collection:
The Places of Worship collection will eventually include entries for all the churches and chapels which exist or have existed in the East Trent area of Nottinghamshire. Each entry will have information about the individual place of worship, and will include links where appropriate to other parts of East Trent Genealogy and also to external websites. At present, the collection includes those churches for which parish register transcriptions have been included on this website, but do keep checking our What's New page to see when more data will be added!
Information currently available for each place of worship includes:
Denomination and current use.
External websites, i.e. the East Trent Group site, the entry on the Church of England's parish finder "A Church Near You" and the entry on the Diocese of Southwell & Nottingham's Church History Project.
Location details, including the address, links to online maps and Sat Nav coordinates.
Baptism, burial & marriage registers (links to transcriptions, list of transcribed registers).